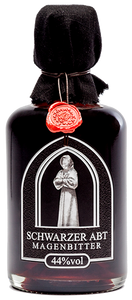 Schwarzer Abt® Premium Bitter - 0.5 L / 44% vol.
Normal price
€22,22
Special Price
€23,99
Unit price
€44,44
Per
l
Barely surviving the 30 Years War, the next bitter defeat for the city of Magdeburg followed in 1666 - the contracts from the Berge monastery. Black days for Abbot Sebastian Göbel, whose monastery also maintained a herb garden on what is now the Abtshof. This inspired us to create a bitter, which convinces with its extractive herbal fullness and its harmonious - soft character. We called him Black Abbot®.

Bottle size: 0.5l
Alcohol content: 44% vol.
---
Share this article
---