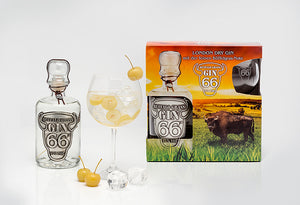 Buffalo Grass Gin 66® gift set (1x 0.5 L / 47% vol. Gin, 1x Gingglas)
Normal price
€35,00
€0,00
Unit price
€70,00
Per
l
With this premium gin with 47% vol. one can fall back on the already existing, in-house know-how of bison grass vodka production from Poland. Before the distillation process in the traditional "small batch" copper still distillation, typical botanicals such as juniper, coriander, wormwood as well as lemon and orange peel are married with the aromatic bison grass in an elaborate step maceration process. The result is a real London Dry Gin with a fine juniper note and subtle hints of the typical bison grass taste - an absolute innovation on the gin market and a real pleasure for all gin lovers.
Bottle size 0.5l
Alcohol content: 47% vol
This gift pack consists of a bottle of BUFFALO GRASS GIN 66, 0.5l and an original "66" Ging Glass.
---
Share this article
---