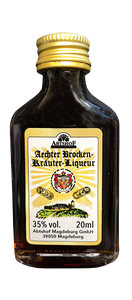 Aechter-Brocken-Kräuter-Liqueur® mini bottles - 20x20 ml / 35% vol. (Herbal liqueur)
Normal price
€19,20
€0,00
Unit price
€48,00
Per
l
This herbal liqueur has been around since 1862 and meets the highest demands. A mixture of selected herbs forms the taste of this noble drop with a pleasant citrus and spice note. Aechter-Brocken-Herb-Liqueur® has received multiple awards from the DLG for special quality and is offered in a square bottle.
Bottle size: 20 x 0.02l
Alcohol content: 35% vol.
---
Share this article
---