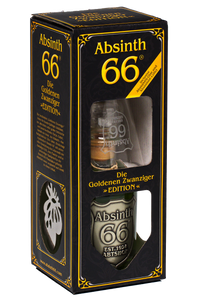 Absinth 66® Single Set - 1x0.2L (66% vol.), 1x Absinth spoon, 1x Absinth glass
Normal price
€15,90
€0,00
Unit price
€79,50
Per
l
Absinth 66® Single Set
The single set of the classic Absinth 66® is particularly suitable for entering the world of absinthe. The set includes a 0.2 liter bottle of Absinth 66® as well as an absinthe spoon and an absinthe glass. The instructions for the absinthe ritual are described on the packaging.
An ideal birthday present.
with dye E102 / E133
Bottle size 0.2l
Alcohol content: 66% vol.
---
Share this article
---