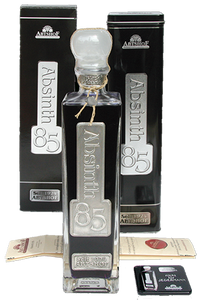 Absinthe "Black Edition" - 0.5 L / 85% vol.
Normal price
€85,00
€0,00
Unit price
€170,00
Per
l
The very limited one Absinthe "Black Edition" - a special drop - was developed on the occasion of the Abtshof's 85th anniversary for upscale gastronomy and collectors. This top product is obtained from high quality raw materials and has the fine herbaceous aroma of a Swiss herbal mixture, balanced with the delicate bitter note of wormwood, surrounded by anise, fennel and a hint of caramel.
A fivefold distillate and the purest water from a glacier spring give this premium product a soft, elegant character. The Black Edition has an alcohol content of 85% vol. and is presented in a decorative outer packaging made of sheet metal. In addition to the elegantly designed bottle with an embossed label, the sheet metal casing contains a product description and a small, embossed decorative magnet plate. The Absinth 85 - Black Edition is almost exclusively sold through the factory or online shop due to its limited range.
with dye E151
Bottle size 0.5l
Alcohol content: 85% vol
---
Share this article
---