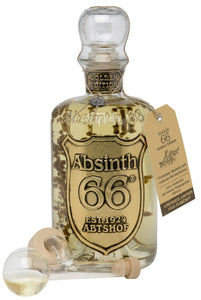 Absinthe 66® "Golden Edition" - 0.5 L / 69% vol.
Normal price
€61,00
€0,00
Unit price
€122,00
Per
l
The Golden Edition of Absinth 66® picks up on the theme of the twenties with its golden label and color-corresponding content. The noble equipment exudes a touch of the decadence of the time.
A fine flowery of selected ingredients caresses the nose. In terms of taste, elegant notes of wormwood and fennel are enchanting, followed by a harmonious aniseed note and a balanced composition of other finest herbs. In the aftermath, there are slightly persistent notes of wormwood, crowned by a pleasant bitter character. Lovers of pleasantly full-bodied and high-thujone absinthes will be spot on with this anniversary edition.
Each pharmacist bottle is labeled and sealed in a laborious process. In addition, each product is checked and numbered by hand. This makes each bottle truly unique!
Bottle size 0.5l
Alcohol content: 69% vol.
---
Share this article
---