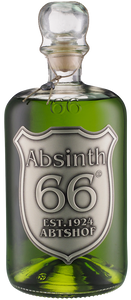 Absinth 66® - 1.0 L / 66% vol.
Normal price
€35,90
Special Price
€39,00
Unit price
€35,90
Per
l
It was banned for a long time, now it can be restored. Absinthe was and is the epitome of the art scene in France in the twenties. Artists like van Gogh, Oscar Wilde and Edgar Allen Poe were inspired by this cult drink to create new masterpieces.
With absinthe 66 ® the Abtshof brings culture and myth to life again. Each pharmacist bottle is labeled and sealed in a laborious process. That makes every bottle unique. With anise, fennel, wormwood and other herbs it gets its unmistakable taste. A must for connoisseurs and for extraordinary parties.
The excellent quality of this product is evident from various quality comparisons and is multiple gold medal winner at the International Spirits Competition (ISW) in 2007, 2008, 2009 and 2010 as well as the DLG.
with dye E102 / E133
Bottle size 1.0l
Alcohol content: 66% vol.
---
Share this article
---